OK, OK, so what I've been posting has probably been incomprehensible. Blame it on a solid afternoon being deluged with data. I've totally simplified it and hopefully someone can help with this now.
GOOD.JPG
Attachment:
File comment: GOOD.JPG

good.jpg [ 53.26 KiB | Viewed 8804 times ]
Above is a screen shot of what I expect to see in terms of an SMTP conversation (from a spammer). It is an attempt to relay using the server in question. It follows the form I expect: server says 220, remote issues HELO, server says 250, remote gives RCTP TO, server says 250 and so on and so forth..
I note, incidentally, than in this type of situation there's no domain local to the server being mentioned, so we have no new data to work from.
BAD.JPG
Attachment:
File comment: BAD.JPG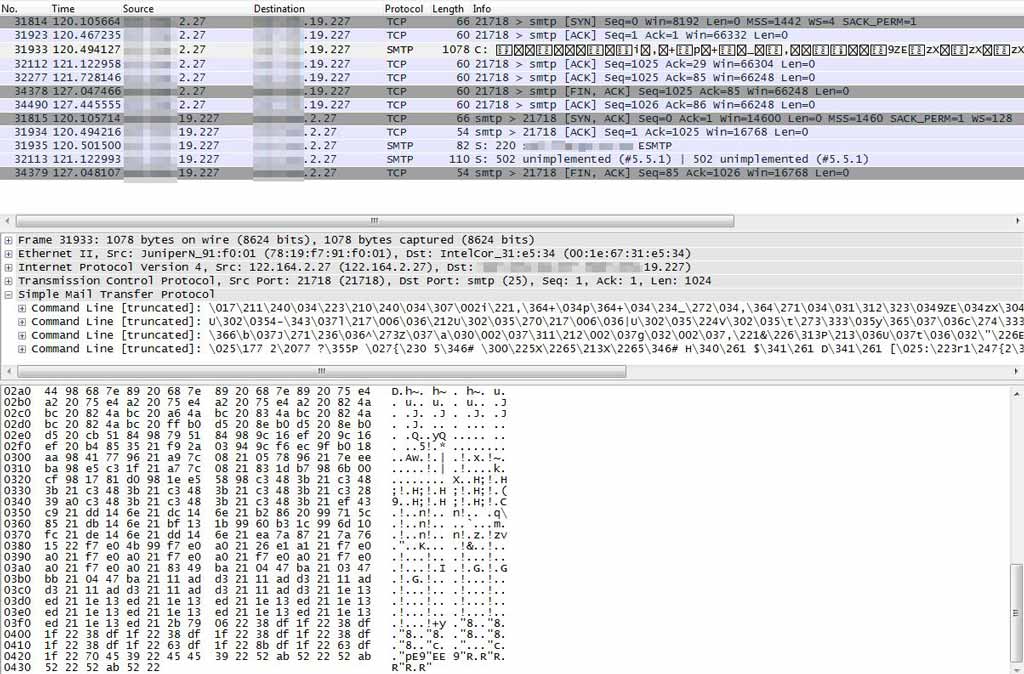 bad.jpg [ 119.31 KiB | Viewed 8804 times ]
Above is screen shot of an example of what happens with these "bad" connections that are driving is nuts.
** They all result in an "Unimplemented" response from the server. All of them. Every single one that I've checked.
You'll see now what I've talking about in terms of "noise". The third line down (31933) contains a big packet of...I don't know what. It isn't until you get three lines from the bottom before the server says 220 and then immediately follows it up with a 502 "Unimplemented".
This is what occurs in each of these thousands of connections that I've looked at.
Is this confirming what I thought? That the spambot is sending data without waiting (hence the earlytalker filter I mentioned before kicking in), so what we're seeing in line 31933 is actually somewhere in the middle of the email, maybe a fragment of its contents, with any reference to a RCPT TO or MAIL FROM long gone?
In these screen shots, I'm searching for conversations by IP address. So this is the "complete" capture of the conversation for this IP (though I note it says "[truncated]" for the command line, presumably because it is long).
And if so.....does this mean we're stuffed in terms of trying to figure out if there's a specific domain being targeted?